Grow Into Your Home: 3 Essential Home Landscaping Tips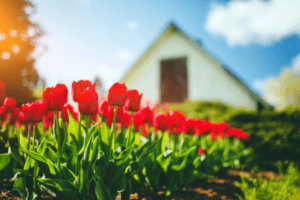 The pristine natural surroundings of Lakeview in Orono are breathtaking and inspire creative landscaping ideas for new homeowners. Tasteful landscaping adds to the rustic appeal of the neighborhood as well as the luxuriousness of a custom home.
Choosing the right greenery for a property can be tricky, as it's important to create a sense of cohesion and order in a natural environment. When thought is put into landscaping, residents enjoy a natural escape just steps from their door. Consider our home landscaping tips before you break ground on your outdoor space.    
1. Add Functionality
Randomly placing trees, shrubs and flowerbeds around a home can lead to unforeseen consequences. Without a cohesive design vision, landscaping can end up feeling cluttered and unattractive. Plants that look good on their own might not mesh with your overall aesthetic, or they could be incompatible species. Crowded landscaping makes getting around more difficult for people, making maintenance a real challenge.
Likewise, it's important to keep traffic flow in mind when you decide on shapes and locations for walkways outside your home. Curved walkways add interest to an outdoor space — but don't go overboard. Walking in circles can seem disorienting and impractical. If you choose to add curved walkways, opt for ones that turn gradually. Be consistent — mixing straight with round walkways leads to a disjointed ambiance.
2. Designate a Focal Point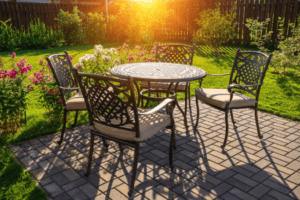 One of the most important aspects of home landscaping is one that sometimes isn't even included — the focal point. This is a part of the outdoor space that grabs people's attention immediately and makes a landscaped yard seem anchored. When done right, a landscaping focal point makes a person feel something, whether that reaction is surprise, awe or serenity depends on what you choose as your center of attention.
Wondering what features serve as eye-catching additions to an outdoor space? Perhaps the most obvious choice is a specimen tree that oozes character. Other plant life can serve as a focal point as well; look for features such as an unexpected color, texture or shape. Even a clearing can attract attention if the view beyond the opening is particularly impressive. If your focal point makes people say "wow," it's serving its purpose.
3. Include Eco-Friendliness
Minimizing landscaping resources and waste output is a great way to make a green space even greener. Creating a sustainable outdoor gathering space that conserves water and soil should be a high priority when landscaping. Eco-friendly landscaping isn't just good for the environment; it has benefits for homeowners as well. Sustainable landscaping approaches are often eligible for government rebates and generally require less labor to maintain.
To get started with eco-friendly landscaping, start by focusing on the materials you are using for your design. Utilizing recycled materials such as reclaimed wood for benches or salvaged metal for fencing can make a big difference in your environmental footprint. Go with drought tolerant trees and perennials to cut back on water usage during summer dry spells. Sunshine is another essential ingredient for plant growth, so make sure that every bit of greenery receives an optimal amount of light during the day. This will help cut back on the resources it takes to replace or revive dead or dying plants.
Plant the Seeds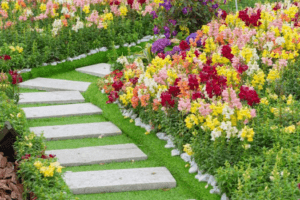 When you're ready to create the landscaping you've always wanted, there is no better place to let your creativity run wild than a blank canvas. You can design your new outdoor escape at the same time you plan a custom home build. By the time your new home is ready for occupancy, you will already have a natural paradise to call your own. Wondering how to get started? Check out the available lots at Lakeview to start envisioning your landscaping layout!